What You Should Know About DICOM CD Burners
Before You Buy
Whether you're running a large hospital or a small imaging center, having the right DICOM CD burner for your business is a must. The system you choose will be used by multiple members of your team on a daily basis for many years. Regardless of what system you choose, both the hardware and software are an investment of time and money, so you'll want to make sure that your selection is the right fit for your organization.
Not sure what system you need? Compare DICOM CD Burners and find the right solution for your team.
When will you need a new DICOM CD burner?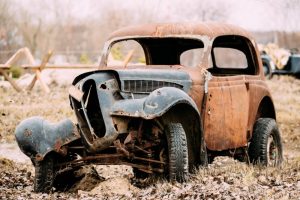 Many companies don't think about replacing their existing machine until it's no longer usable. It's hard to determine how long your DICOM CD burner hardware will last since there are a lot of factors that affect the longevity of the system. Sometimes a machine reaches the end of its designed life cycle, other times it's when a model is discontinued by the manufacturer and will no longer be supported – that is the time to start looking at replacement options. In some cases, especially with incorrect or overuse of a machine, the hardware can fail without much warning.
Will you need new DICOM software?
In most cases, new hardware means getting new software along with it. Because the software is what your team will be interacting with in a variety of ways on a daily basis, it's crucial that it can be seamlessly integrated into your PACS / RIS / EMR and that it does so in a way that makes work easier and more efficient. When it comes to hardware, there are features that are nice to have, but when it comes to software, there are features that you just can't do without so be sure to consider both in conjunction.
Doing research will not only help you decide what features are most important to you, but it will also help you avoid downtime when your current system is no longer usable and help you get your budget approved faster. And if it's your company's first disc burning system, research is a must.
It's a little like shopping for a car. If you wait until your current vehicle won't even start, you will be on a time crunch to make a purchase fast. When that happens, you're less likely to end up with all of the features you want and stay within your budget.
In this article we will review and compare hardware considerations and features including:
Production volume

Redundancy and continual operation

Input and output capacity

Size and speed

Print technologies

Single vs. dual recorders

Cost of maintenance and supplies

And more …
Schedule a demo of Vertex to learn how it can improve your imaging.
DICOM CD Burner Hardware
: What Machine is Best?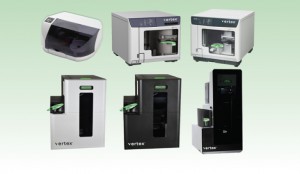 It sounds simple, to make DISCs (CD/DVD), you need some kind of DICOM CD burner hardware. But of course, not all systems are created equal. There are three major manufacturers out there. The machines these companies build are sold by software developers, like Sorna Corporation, who integrate the hardware with advanced software, like Vertex, to offer a complete solution.  Such solutions are required to be registered with the FDA.

DICOM burners come in a variety of models with different features at various price points. Smaller units with standard functionality may seem more cost-effective, but many times an organization's needs are best met by more robust features or multiple units. If you end up purchasing a CD burner that does not serve your team with ease, speed, and reliability, you will likely end up spending more money in the long run.
With that being said, let's look at some important factors to consider when doing research on what DICOM burning hardware to buy.
DICOM Production Volume
Assessing the number of DISCs you need to burn per day, or per hour, will help you balance cost versus print speed and convenience. Lower volume facilities may not need the same speed and versatility that an enterprise might require, but it's important to consider your needs not just on an average day, but on your busiest day or busiest time of day. Not every day is the same and your disc burner needs to be able to meet your needs at all times, not just on an average day.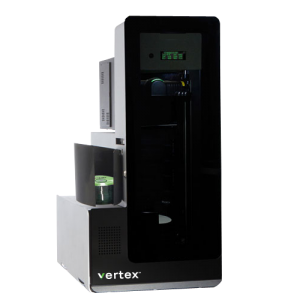 High Volume Tip: Hospitals and enterprise-level imaging facilities typically go with a heavy-duty machine, like Vertex 25te or Vertex 22t-6. However, there are some potential downsides to selecting a single, more powerful machine. If you have only one machine and it experiences hardware malfunctions, there is no backup. Heavy-duty machines can also be more costly to repair and maintain. Large facilities may want to consider purchasing two or three mid to high production level machines instead of one industrial piece of hardware.

Redundancy and Continual Operation
Regardless of your company size, down-time on a CD burner is generally problematic, or inconvenient at best. Having multiple units in your DICOM hardware system creates redundancy so you aren't out of luck when a machine is waiting on a new ink cartridge, a technician to come in for a repair, or when the day comes that it needs to be replaced.
Having multiple print units is a must if your organization has different departments or areas. If your building layout means that the Cardiology department would have to walk all the way over to the Radiology department on the other side of the building, on another floor, or across the street to pick up a disc, it's clear that multiple units will be required.
Ease of printing across multiple locations
In addition to these benefits, having multiple systems is easy on the imaging software user, and accommodates sites in other physical locations. With the right software, anyone creating a disc can send the job to any burner on the network, even if it's at another building across the parking lot or across the country.
CD Input and Output Capacity
Having more bins means having CDs and DVDs as well as faster disc burning and more DISCs in the bin means less time refilling the machine.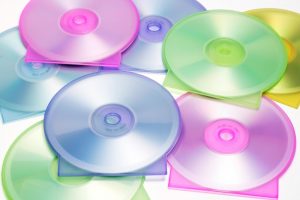 Open versus closed-door bins are an important consideration when it comes to speed. For example, the Vertex 25ei has an output bin that can be pulled out to remove a completed disc without interrupting the machine. Vertex 25te and Vertex 22t-6 have open output bins on the side, hence completed DISCs can be picked up during productions without delay.  This makes the overall use of the machine faster than the slightly less expensive Vertex 15ei in which opening the bin door can interrupt the production process.

System Size
Larger machines are typically more powerful and all machines should provide dimensions online. Be sure to measure the space you will be placing your machine in to ensure there is room to move around the unit and easily access supplies (ink, ribbon, DISC) refill as well as maintenance areas. 
Single or Dual DISC Recorders
With two recorders, two discs can be burnt simultaneously. This is a big plus when it comes to medium or high production volume. This is especially beneficial during the busy times of the day and when your disc production needs increase.
Inkjet or Thermal Transfer Printing
The quality of the printed image on your discs depends on the printing technology your machine uses. There are two primary print technologies on the market. Inkjet is a standard printing technique while thermal transfer printing is the more advanced option.
Models like the Vertex 25te and Vertex 22t-6 use thermal printing to produce a more durable image that undergoes less wear over time and is even water-resistant. 
As an added perk, thermal printing has the advantage of faster disc burning because the image is first printed to a thermal transfer ribbon (during the DISC burning time) before being applied to the disc, freeing up the printer to move onto the next job sooner.
Cost of DICOM Hardware Maintenance and Supplies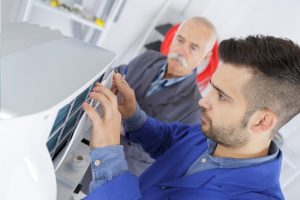 More powerful machines generally cost more to repair and maintain. However, with some machines you can replace parts yourself, saving money and time (and system downtime) instead of needing a technician. The Vertex 25ei, for example, has an inkwell that's simple to swap out, which means it can be easily replaced without a technician.
Any DICOM burning hardware system will need supplies and parts over time. The cost and availability of these items should be taken into consideration when shopping for a new burner unit. 
No matter if your machine is old or new, make sure you know where to order DICOM CD burner parts and supplies and that you always have extra items like ink cartridges, ribbons, and DISCs on hand.


Other DICOM Features and Specifications
Some machines will have additional features that may be valuable to your team. Once you narrow down your options, be sure to contact the seller to get any remaining questions answered and to get a full list of features and specifications on the units that are of interest to your organization. 
For more information on features and specifications of individual units, see the features comparison chart for all of our DICOM CD burner hardware options.
DICOM Software Considerations
When comparing DICOM burner solutions, the true differentiator is the software. Itis the core of every system, and it will constitute the majority of the interactions your team has with your overall DICOM burning solution. Even the best hardware is going to be ineffective when paired with a software system that does not streamline your processes.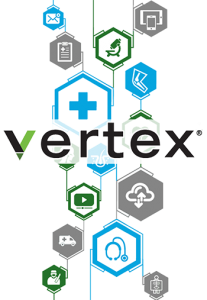 Be sure to research feature sets and integration with your PACS / RIS / EMR systems you're taking into consideration to find the best solution for your needs. Once you have narrowed down your options to a few top choices, get a demo of each system. This will help you understand how the software side of the system will interact in your environment, how it can cut down on superfluous programs and extra clicking, and how you can use it to incorporate new solutions that your team may currently have to use workarounds for.
For example, in a 30-minute demo, the Sorna team can walk you through the Vertex Software system and determine which features would best solve your image management challenges. 
With
DICOM CD Burners
, Knowledge is Power
Most DICOM systems will get the job done, it's getting the job done WELL that drives further technological innovation.
Some extra time and consideration upfront will have a major impact on the viability of your DICOM DISC management system in the long-term. If the system you choose saves every employee that uses it 5 minutes a day, that time adds up quickly. That means more time for your team to do more of what's most important.
Which DICOM CD burner is right for you?