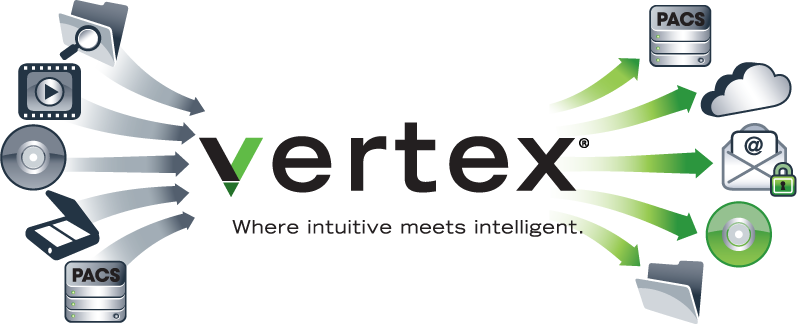 All Your Medical Imaging Application Needs in One Intuitive, IT-friendly Software
Vertex is the industry's most advanced software for sharing, burning, importing, converting, viewing, and storing medical studies, images, and related documents. Vertex enables radiology, cardiology, oncology, endoscopy, surgery, and dermatology professionals to easily share and manage medical studies using a simple, streamlined process.
Take DICOM or non-DICOM objects from any source
Convert non-DICOM objects to DICOM
Create new, add to, or modify existing studies
Vertex combines the best features of disparate medical imaging applications into a single,
IT-friendly software with an intuitive interface.
Pathology

Incorporate Key Slides into the EMR Instead of Printing or Storing on Departmental Storage

Surgery

Edit, Import and Distribute Video Clips of Specialized Endoscopy Procedures

Dermatology

Import Jpg Images to Track the Status of Lesions or Other Skin Conditions over Time

ENT

Share Image and Clips from Swallow Studies via the Patient's Chart

Radiology

Automate Distribution of Images and Reports to Referring Physicians