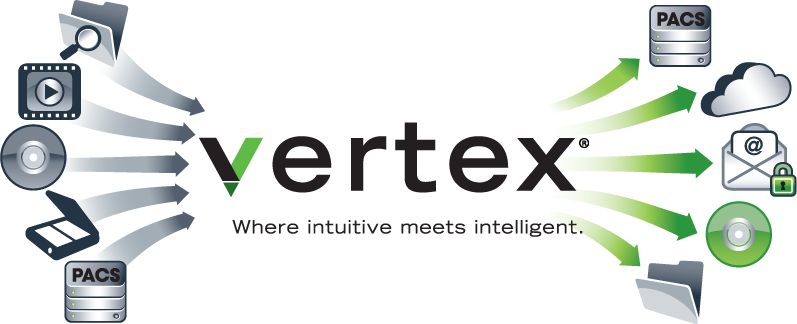 All Your Medical Imaging Application Needs in One Intuitive, IT-friendly Software
Vertex is the industry's most advanced software for sharing, burning, importing, converting, viewing, and storing medical studies, images, and related documents. Vertex enables radiology, cardiology, oncology, endoscopy, surgery, and dermatology professionals to easily share and manage medical studies using a simple, streamlined process.
Take DICOM or non-DICOM objects from any source
Convert non-DICOM objects to DICOM
Create new, add to, or modify existing studies
Vertex combines the best features of disparate medical imaging applications into a single,
IT-friendly software with an intuitive interface.
The Ultimate Gateway for Data Sharing

Vertex's gateway technology for automated / unattended workflows ensures jobs are completed quickly and effectively with no operator interaction required. Vertex's manual / attended operations allow users to simultaneously complete multiple tasks for increased productivity.

Easy to Learn and Use

The Vertex interface enriches the user experience and minimizes the amount of bio-medical team resources required for installation, training, and support.

Report Enabled

Vertex's HL7 engine receives radiology report results from HIS, RIS, or EMR, allowing users to distribute reports to referring physicians via numerous sharing methods.

Versatile in DICOM Conversion

Create new studies and / or enhance existing studies with multi-media objects by DICOMizing image files, video files, office documents, paper documents, and film via drag-and-drop functionality within Vertex.

Easy to Deploy and Upgrade

Vertex accelerates workstation software deployment and upgrade procedures by utilizing Microsoft's ClickOnce technology, minimizing IT resource requirements. Vertex is upgraded, if necessary, and launched just by clicking a browser link.

Access Protected

Vertex users are authenticated through single sign-on or built-in user configuration, guaranteeing only authorized users have access at any given time. Access to Vertex is further protected by requiring administrator authorization through built-in user configuration.

Cost-Effective

Vertex is an affordable software solution that can seamlessly integrate with all industry-leading autoloaders, protecting your investment in existing hardware.

Designed for PHI Security

Vertex's one-click de-identification allows study data to be anonymized, so users can quickly and effortlessly create teaching files and / or research projects while maintaining patient confidentiality. Additionally, Vertex's DISC encryption is DICOM and FIPS 140-2 conformant, guaranteeing the security of PHI on CDs / DVDs generated.

Intelligent Data Retention

Vertex Local Store is a built-in DICOM archive which stores studies and has robust, scheduled self-purging rules for retention of the most recent studies.

Hassle-free for PACS Integration

Vertex connects with your PACS in minutes, reducing installation time and cost.

Expertly Developed

Vertex was developed by Sorna's industry experts with extensive engineering and service experience, using feedback from our dedicated luminary facilities on their workflow needs and optimized user interaction.

HIPAA Compliant

Vertex provides peace of mind by tracking and logging transactions for HIPAA compliance.

DICOM and IHE Conformant

To provide interoperability with your imaging enterprise, Vertex conforms to relevant DICOM and IHE standards.